Seems a little quiet in here lately, is it that time of the year for the students already? o_o"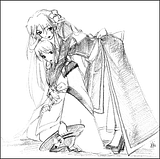 This is me and a friend of mine. In a way that is totally not gay. Really. >_>"

Post moarrrrrr.

Also, on a random note, what's the word on the art exchange thing we were discussing a few threads back? Is it still going ahead?